Learn Logic Pro X with Logic Pro X For Dummies
Are you an aspiring musician or music producer who wants to quickly learn how to use one of the most widely used digital audio workstations (DAWs) on the market?
Or perhaps you're an experienced recording engineer who wants to get up to speed on the latest version of Logic Pro X?
If so, then consider investing in a copy of Logic Pro X For Dummies!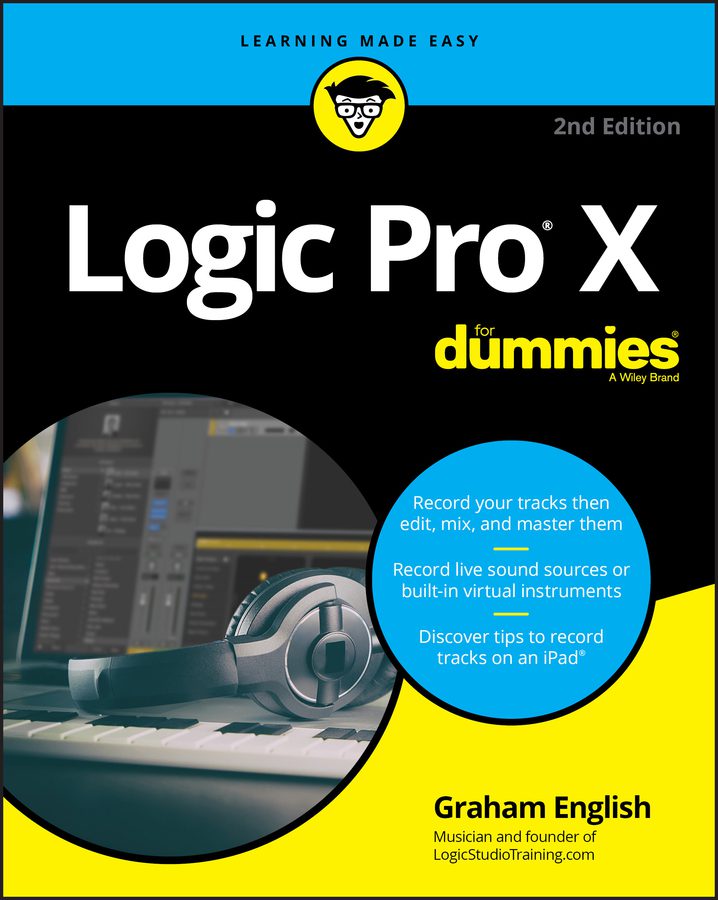 Logic Pro X is a professional-level music production software developed by Apple and used by musicians worldwide. With its intuitive design and built-in virtual instruments and effects, it has become one of the go-to choices for making music.
It can be intimidating for novice users, but with the help of a good book like Logic Pro X for Dummies, you can quickly learn how to navigate its interface and start making music in no time!
What Are The Benefits of Learning with Logic Pro X For Dummies?
With this book as your guide, you'll have quicker access to Logic's features and more time to make music instead of trying to figure out how everything works.
The step-by-step instructions will help you quickly find your way around the interface and tweak settings just right.
You'll also be able to record live sound sources or control software synthesizers quickly, so you don't miss out on any creative ideas.
Plus, if you already have some experience with Logic Pro X, this book will provide updated information on changes added in recent updates that will help create a better session.
Additionally, this book incorporates bonus projects, templates, and examples from real-world projects so that you can apply what you learn right away. It covers topics such as:
Creating beats
MIDI sequencing
Setting up audio tracks
Mixing down sounds
Using effects processors
Mastering tracks for release
And much more!
If there's something specific that you need help with, chances are it's covered in this book!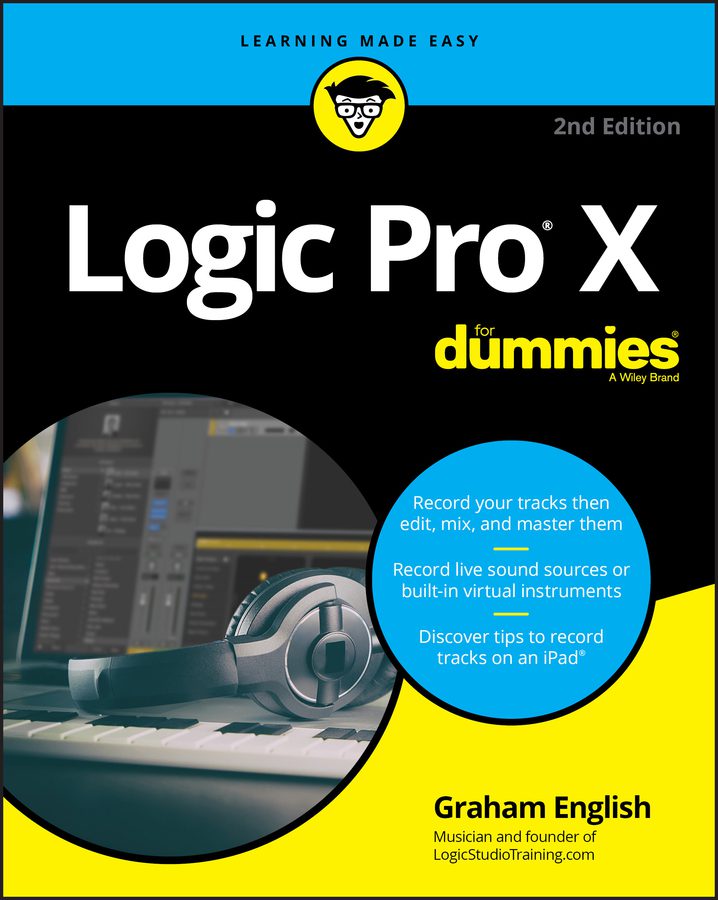 If you want to make the most out of your recordings using Logic Pro X, then investing in a copy of Logic Pro X For Dummies is highly recommended.
This comprehensive guide provides detailed instructions on everything from navigating the interface to setting up audio tracks and mastering tracks for release. With its help, even novice users can get up and running quickly, while experienced engineers can stay up-to-date on all the features added in recent updates.
In no time at all, you'll be creating outstanding recordings!
Self-Paced Learning Tool With Project Based Instructions
Logic Pro X For Dummies is a comprehensive guide to basic music creation that offers helpful illustrations and straightforward explanations designed to get beginners up to speed in no time.
In addition, the downloadable lesson files are sure to inspire creative ideas and introduce users to professional tools for producing their audio productions.
With Logic Pro X For Dummies, mastering the basic tech tasks that stand between you and a perfect take has never been easier!
A Seasoned Musician With An Accessible Writing Style
For all aspiring composers and producers looking to expand their music-making skills, composer Graham English is here to help. As a veteran producer and Logic Pro X trainer, he reveals his creative arsenal in Logic Pro X For Dummies – a comprehensive guide to using the software designed for someone new to the technology.
With an accessible writing style, Graham helps reduce the time needed to learn the software so creators can get back to more important things, like making excellent music.
So if you want to jump-start your production career with Logic Pro X, look no further! Logic Pro X For Dummies is the perfect place to get started.
Is Logic Pro X Discontinued?
No, and that's good news for audio producers.
The best-selling music production software has had a name change. It's no longer known as Logic Pro X but has been renamed "Logic Pro" and is now better than ever for professional music production.
If you're looking for a fantastic tool to create and edit sequences, manipulate audio and MIDI data, and be capable of sophisticated production techniques, look no further than Logic Pro. You'll be producing like a pro in no time!
Is Logic Pro X For Beginners?
Logic is an incredible tool that makes basic music creation and sophisticated production techniques accessible to everyone, regardless of experience.
Whether you're a beginner in the world of music production who wants to learn basic music creation or a veteran producer looking for professional sound and the latest production tools, Logic has something for you. With its intuitive user interface, smart controls, drummer tracks, and other effect plug-ins like drum kit designer, Logic will help you transform basic ideas into a professional music production.
Is Logic Pro X Worth Buying?
If you had purchased Logic Pro X when it was first released, you would have paid $200 and received free major updates for going on almost ten years. Logic is definitely worth the price.
Logic offers a variety of features to record audio and MIDI making music-making easier for any artist. It includes a sophisticated drum machine designer to create banging grooves and unique instruments. Not to mention it comes with great-sounding software synthesizers to create enchanting melodies and loads of other effect plug-ins to really take your productions to the next level.
Does Logic Pro Have A Free Trial?
If learning logic is something you'd like to try, then on the Apple website there's a great opportunity available. They offer a 90-day free trial to all Logic users!
You will be able to test the software out and see if learning logic is ultimately right for you. Keep in mind, the trial is only valid online and requires internet access. Once your trial period has expired, you can decide whether or not you would like to purchase it.
What Is The Best Way To Learn Logic Pro?
If you're looking for an easy, accessible way to level up your Logic skills, look no further than Logic Pro X For Dummies.
The downloadable lesson files and illustrations make understanding the material a breeze, allowing even beginners to start using the software in no time. The straightforward explanations of all its features are presented in an approachable writing style, and hands-on exercises give you plenty of practice to refine your skills.
For an incredible value, Logic Pro X For Dummies will help you master the program in no time!
What do I need to use Logic?
Using Logic for your audio productions is a perfect choice. All you need to get started is a Mac computer and to download the Logic Pro software from the App Store. Once installed, you can explore a variety of recording and editing tools, allowing you to create professional-sounding projects.
You may also want to check out some of the many tutorials and logic books available online. They provide an excellent crash course in many Logic tools, helping to jumpstart your journey into music production (and you'll want to explore flex pitch).
How do I get started with Logic?
If you're curious about Logic and want to control software synthesizers or learn master techniques fast, you can get started in no time.
Downloading the software is the first step – after that, open it up and start tinkering! Step by step, explore its various features, like the library of virtual instruments and its helpful tutorials. With enough practice, you'll be a Logic whiz in no time.
What are some of the features of Logic?
Logic is a digital audio workstation designed by Apple that's used by professionals and beginners alike to create music and other audio recordings. The software helps producers in all aspects of their work, from vocal recording and sequencing MIDI, to mixing and mastering the final product.
For example, you can use the smart tempo function to automatically changes the tempo of your project when you add new sounds. You can also record audio and MIDI data with ease.
Logic Pro, the latest version of the app, includes tons of features such as MIDI FX, drum machine designer & drum kit designer, record live loops, smart tempo & smart controls, and effect plug-ins, an easy-to-use interface, and explore Flex Pitch for to improve your vocal recording.
The Live Loops feature allows you to create custom beats and trigger them in real-time as you make music. It even includes Flex Pitch and Flex Time that let you stretch vocal notes or apply creative effects to make your vocals stand out. Plus, there are a variety of MIDI FX plugins too that give you loads of creative possibilities.
What are some tips and tricks for using Logic?
Logic Pro is a great tool for any audio professional to create amazing music with.
One of the best tricks to take advantage of is creating stutter effects by using audio editing. You can create unique sounds that can be used for a variety of purposes. Checking out the key commands to quickly navigate the interface without having to use a mouse every time. Parallel processing also allows you to make your synth tracks really pump along with the beat, and the artificial intelligence drummer tracks help you keep tight and ensure that everything plays along with your recordings perfectly.
How do I troubleshoot problems with Logic?
The best way to tackle any technical challenge is to start by following Apple's official guide: restart your Mac and update Logic Pro. It's also important to make sure your device and software are compatible.
If you need more help, Logic Studio Training offers apple certified guides that can help guide you through the troubleshooting process. Get the support you need – try out Logic Studio Training today!
Where can I find more information about Logic?
If you are looking to learn about Apple's Logic digital audio workstation, then the Apple pro training series is a great place to start. You will find the Logic Studio Training website full of tutorials, tips, and video lessons providing an excellent introduction.