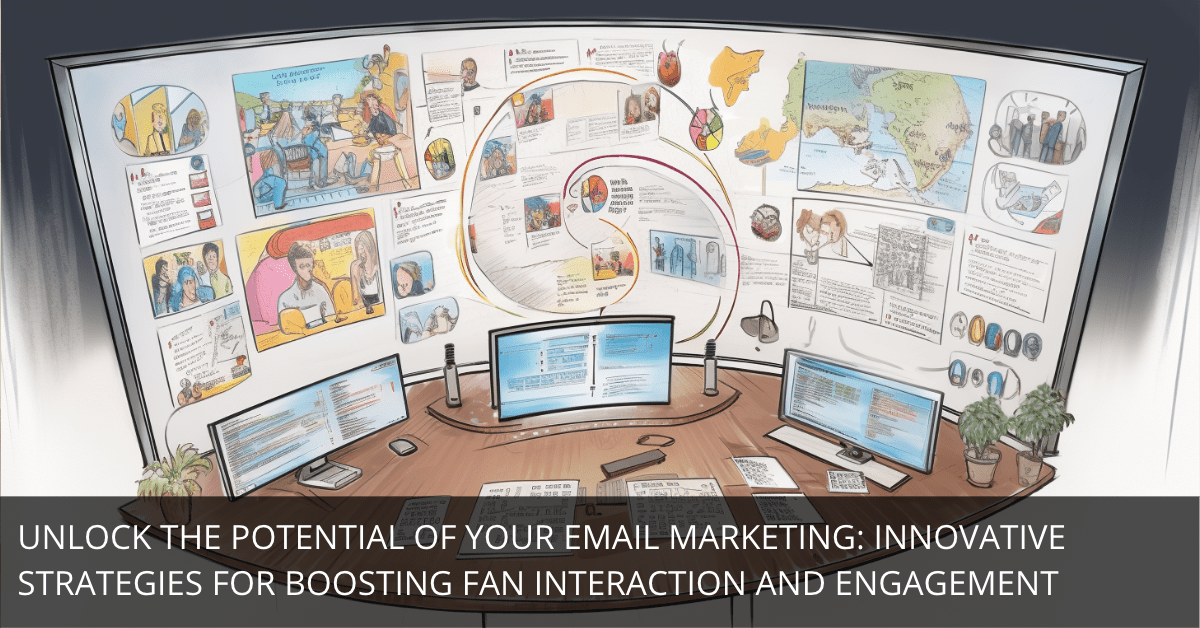 A Struggle Known Too Well
Low fan engagement through email?
It's like playing to an empty concert hall.
You pour your heart out, but the silence is deafening.
You're not alone.
Harness the Power of Interaction
Remember your first concert? The cheers, the singing along, the connection - that's the power of interaction.
So why should emails be any different?
They shouldn't.
Emails that are more conversation than monologue hold the key to engagement.
Think about it.
No one wants to be talked at; they want to be talked with.
They want to engage, have their voice heard, and feel that their opinion matters.
Passive Readers or Active Participants: The Choice is Yours
Let's not kid ourselves.
We've all been there, scrolling through an email without giving it a second thought—passive reading.
What's the fun in that?
On the other hand, imagine an email that pulls you in and invites you to click, share, or respond.
That's active participation, and that's where the magic happens.
Fan Surveys: Your Secret Weapon
Fan surveys. Sounds straightforward, right?
But they're much more than that.
They're an invitation, an opportunity for fans to share their thoughts and feel part of something bigger.
And the best part?
You get a goldmine of information.
Imagine getting a survey that asks, "What's your favorite song from our latest album?"
You'd jump at the chance to share.
Now, that's what we call a win-win situation.
Exclusive Content: The Golden Ticket
Think back to the first time you held a backstage pass, that feeling of being part of an exclusive club.
Why not replicate that with your emails?
Exclusive content, whether a sneak peek at your new album cover or early access to ticket sales, can make fans feel special.
They're not just spectators; they're VIPs.
It's not just about offering something valuable; it's about creating an experience.
Responsive Elements: More Than Just Words
Imagine a pop-up book. It's fun, right?
Responsive email elements bring that same sense of interactivity and fun to your fans' inboxes.
Animations, dynamic content, embedded media. These aren't just fancy tech terms; they're the future of email marketing.
They turn an otherwise dull message into an immersive experience.
And let's face it, who wouldn't want to interact with an email that's more fun than work?
Tracking Your Success: Numbers Don't Lie
Remember that feeling of seeing your song climb the charts?
Tracking email engagement success can provide the same thrill.
It's not about obsessing over every single metric. Instead, it's about understanding what's working and what's not.
And that's where key metrics and tracking tools come into play.
In Closing: Unleash the Power of Interactive Emails
Remember, the key to fostering fan engagement is to turn your emails into interactive experiences.
Include fan surveys, offer exclusive content, utilize responsive elements, and keep an eye on those metrics.
Your fans are more than just email addresses.
They're your audience, your community, your biggest supporters.
Isn't it time you gave them the encore they deserve?
FAQs
1. What is the most effective way to make my emails more interactive?
Integrate features like fan surveys, exclusive content, and responsive elements to engage your readers actively.
2. Can fan surveys really improve email engagement?
Absolutely! Fan surveys allow your audience to voice their opinions and interact directly with your content, fostering engagement.
3. How can offering exclusive content in my emails benefit me?
Exclusive content makes your fans feel valued and special, encouraging them to interact more with your emails and stay tuned for more.
4. What do we mean by "responsive elements" in emails?
These features, like animations, dynamic content, and embedded media add interactivity to your emails, making them more engaging.
5. Why is tracking email engagement success important?
Tracking allows you to understand what works and what doesn't in your emails. It helps you to fine-tune your strategies for better fan engagement.