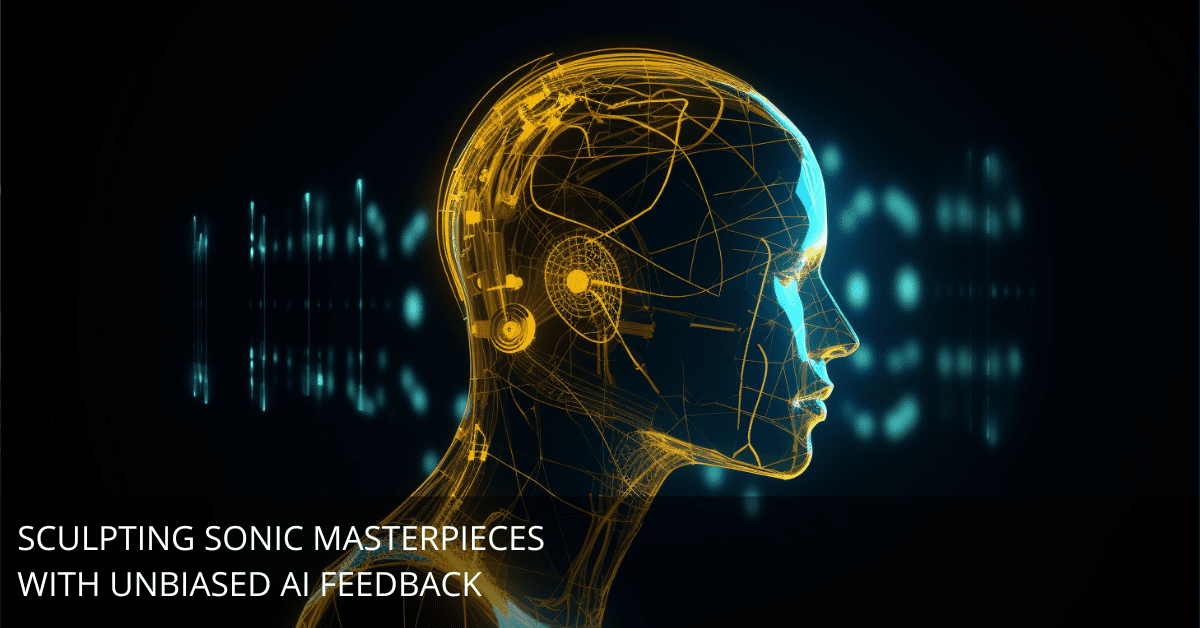 Ever dreamed about getting your latest track critiqued by a machine?
Nah, me neither... But here we are, in a world where a machine, specifically OpenAI's ChatGPT, can lay some serious wisdom about your latest bop.
And no, it won't merely echo back your insecurities about that tricky bridge section... I mean, how cool is that?
The Skinny on Unbiased Music Feedback
Listen up, cats and kittens, because we're about to break down the big deal about "Unbiased Music Feedback."
You know that feeling when your buddy Bob, who still rocks out to 80s glam metal, tries to give you "constructive criticism" on your ambient electro-pop masterpiece? Yeah, that's a straight ticket to Biasville.
Wouldn't it be gnarly if you could get feedback like a straight arrow—no curves, no detours—just honest-to-goodness critique? That's what we're talking about here.
What if a listener could dissect your tune without preconceived notions, cultural biases, or a soft spot for Winger's "Seventeen"? Enter AI...
AI in Music Critiquing: No, Robots Aren't Stealing Your Job... Yet
Now, I'm not saying that our old pal AI is about to snag the jobs of music critics worldwide (though, let's be honest, would that really be the worst thing?).
AI in music critiquing isn't exactly new. We've got algorithms out there analyzing tracks down to their very essence, spewing out insights on rhythm patterns, chord progressions, and more.
But our friend ChatGPT? It can't listen. It doesn't jam out to tunes. It can't bob its head to the beat. But what it can do might just blow your socks off.
Unleashing ChatGPT: It Doesn't Listen, But It Sure Does Talk Music
So, ChatGPT can't bop along to your killer tune. But before you bail, let me tell you, it can still dish out feedback as insightful as that wizened music prof you looked up to in college.
Here's the scoop on how this silent AI maestro can be your next big critique partner:
Structure Evaluation: ChatGPT, Tear This Track Apart!
Let's kick off with structure evaluation. The machine's got your back here. It's as simple as 1-2-3:
Scribble down your song's structure—intros, verses, choruses, that epic guitar solo, everything—in serious detail.
Shoot it over to ChatGPT and see what it has to say.
Go through the feedback, then tweak your song for a smoother, catchier flow.
Who knew AI could be so human-like, huh?
Got Chords? ChatGPT Can Help with Melodic and Harmonic Structures
No need to wrestle alone with those chord progressions or melodic lines anymore. Here's how to do the cha-cha with ChatGPT:
Write down your melodic or harmonic idea, or just cry out for help with a certain part of the song.
Hand it over to ChatGPT, like "Hey ChatGPT, what's a killer chord progression for my chorus?" or "This bridge seems a little lackluster. Any ideas?"
Sift through the feedback, and try out the suggestions on your DAW or instrument. Boom! You're jamming with AI!
Are You Trending? ChatGPT on Genre and Trend Alignment
Wondering how well your punk-gospel-EDM fusion aligns with genre trends? Here's the secret handshake with ChatGPT:
Sketch out your song's style, instrumentation, and key features. State clearly what genre you think it falls into.
Ask ChatGPT to score your song based on the genre's norms or current instrumental trends.
Take that feedback and decide whether you want to march with the crowd or rebel against it.
Decoding Audience Reception: ChatGPT's Crystal Ball
Wish you knew how your new-age speed metal ballad would resonate with listeners? Well, you can:
Write a detailed description of your song—its mood, style, and standout features.
Ask ChatGPT how different audience demographics might react.
Consider the feedback when finalizing your song or strategizing your next viral marketing campaign.
The Album Sequencer: ChatGPT Can Do That Too!
Releasing an album or EP? Get some AI help:
Write descriptions for each of your songs—highlight their key features, moods, and styles.
Ask ChatGPT for a killer sequence to hook your listeners.
Review the suggestions, juggle around the order of your tracks, and voila! You've got a compelling album sequence.
The Final Countdown: AI, the Future of Music Critiquing?
So, what's the endgame here? Are we staring at a future where machines will be our music mentors? It sure looks like it. But hey, maybe that's not such a bad thing. AI's got a seat at the music table, and it's ready to feast.
ChatGPT and its AI buddies could help redefine how we compose, produce, and share music. So, artists of the world, why not take your tunes for a spin in the world of AI? Might sound nuts, but hey, it's a weird world out there.
AI and Music: A Punk Rock Take
Picture this: A world where your music partner is an AI. No egos, no clash of ideas, just pure, unfiltered, unbiased feedback.
Sounds like a scene straight out of a cyberpunk flick, doesn't it? But then again, in a world where orcas are sinking boats and billionaires are rocketing off to space, who are we to say what's weird and what's not?
Frequently Asked Questions
Q1: Is ChatGPT the only AI I can use for music feedback?
There's a whole bevy of AI tools out there, but ChatGPT's pretty unique in its approach, focusing on textual descriptions rather than audio files.
Q2: Does it matter what genre my music is?
ChatGPT couldn't care less if you're into jazz, metal, country, or if you've crafted a new genre. It's ready to help.
Q3: Is AI going to replace human critics?
AI's good, but it can't replicate the human touch of a music critic. Not yet, at least... Who knows what the future holds?
Q4: Can ChatGPT actually listen to my music?
Nah, it can't. It relies on the details you provide. The more you give, the more it gives back.
Q5: Is this AI thing really the future of music?
Well, unless we invent time travel, we won't know for sure. But judging by the current trend, AI's definitely rocking the music boat.